Facing a gap in standards interpretation, the Tampa and New York City Connected Vehicle Pilot Sites worked together to harmonize on messages for pedestrian safety applications
One of the goals of the CV Pilot Deployments is to accelerate the deployment of interoperable connected vehicle technologies in the advancement of the national highway system. The vision for interoperable, consistent, and seamless communications exchange among CV systems and devices can only be achieved with precise, non-ambiguous standards in place. With many ITS communication standards still under development, the CV Pilot Sites worked together to ensure a common resolution of any ambiguities, and consistent [interoperable] use of the message content. This program became known as the "triples" and involved a careful review of all standard messages to ensure consistent use and interpretation of all data elements relevant to the planned applications.
The NYCDOT and Tampa (THEA) Pilot sites planned to achieve limited Vehicle-to-Infrastructure (V2I) interoperability through the successful transmission, reception, and parsing of the Signal Phase and Timing (SPaT) and MAP (intersection geometry) messages. Both THEA and NYCDOT are deploying pedestrian-related applications that utilize the exchange of SPaT and MAP messages to alert drivers of the presence of pedestrians in the crosswalk and to alert pedestrians when it is safe to cross. To ensure that the Tampa and New York applications would be consistent in messaging, THEA and NYCDOT worked together to harmonize the data elements they would be using in the SPaT and MAP messages.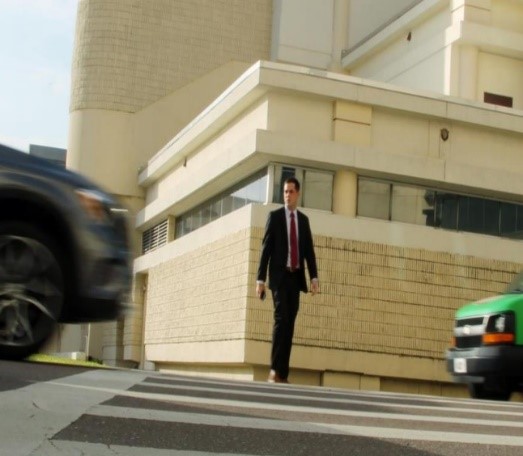 As pedestrian safety applications rely upon accurate position information, it was critical that the systems from both sites perceived the crosswalk using the same parameters. In absence of a clarification on the interpretation of crosswalks within the MAP message in the North American profile of ISO 1909, THEA decided to adopt the interpretation of the European profile, while NYC's solution was based on an approach only in the early stages of consideration by the Standards board. Though different, both sites' approaches were compliant to the SAE J2735 standard regarding V2I communications at signalized intersections. To summarize, NYC's preferred method digitally defined the crosswalk area as the area between the curbs, while THEA's preferred method defined the crosswalk based on the sidewalk's entry/exit point to the crossing (i.e. waiting area).
THEA's reasoning for including the waiting area within the crosswalk area was to better protect pedestrians with visual disabilities by assisting them with identifying the safe waiting area. Issues considered included the definitions of geometric features, vehicular and pedestrian traffic paths, conflict points/zones, and MAP message sizes. In the end, it was decided that crosswalks within the MAP message should be implemented from both an infrastructure perspective (e.g. where the crosswalk lines are painted on the pavement) and the perspective of the pedestrian applications. Following this conclusion, NYCDOT is pressing forward with their original plans while THEA is refining their pedestrian application deployment concept.