About ITS JPO
Egan Smith P.E. PTP PTOE, Managing Director Intelligent Transportation Systems (ITS) Joint Program Office (JPO)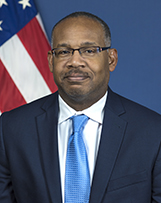 Egan has decades of professional experience in Intelligent Transportation Systems (ITS), transportation program management and transportation planning. Egan is a registered Professional Engineer, Professional Traffic Operations Engineer and Professional Transportation Planner. Egan has a Bachelor of Science degree in Civil Engineering, a Master of Engineering in Traffic Engineering and Operations Research, and a Master of Science in Technology Management.
Egan is the Managing Director of the Intelligent Transportation Systems (ITS) Joint Program Office (JPO). He is responsible for the timely and efficient implementation of ITS activities including the development and implementation of the ITS Strategic Plan; the review and assessment of legislative proposals; and the coordination, oversight and evaluation for all ongoing ITS JPO program activities.
Prior to the ITS JPO Egan worked for seven years at Federal Highway Administration (FHWA) on the Planning Oversight and Stewardship Team in FHWA's Office of Planning, Environment, and Realty. There he served as the planning lead for the Planning for Operations Program and Performance Based Planning and Programming.
Prior to FHWA Egan worked as a consultant leading several ITS projects - going back to FHWA's Automated Highway Systems Precursor Systems Analysis in the early 90's. Egan began his transportation career as a Graduate Research Fellow with FHWA at Turner Fairbank where he researched Modeling Perspectives for the Automated Highway.