Connected Vehicle Pilots Include Diverse Technologies to Implement Tomorrow's Applications Today
New York City Department of Transportation (NYCDOT), Wyoming Department of Transportation (WYDOT), and Tampa Hillsborough Expressway Authority (THEA) are currently in the installation stage of the U.S. Department of Transportation (USDOT) Connected Vehicle (CV) Pilot program. The sites are installing specialized radios and computer systems in vehicles, in mobile devices, and at fixed locations, enabling vehicle-to-vehicle, vehicle-to-infrastructure, and vehicle-to-pedestrian communication for CV applications that will improve safety and mobility, and reduce environmental impact. The program is partly funded by USDOT and partly by local agencies (80/20 cost sharing).
Although the three sites will feature and evaluate CV devices and technologies, each deployment uses a blend of technologies, including some non-CV sensors. Reasons for using these sensors include cases where:
CV market penetration is not high enough to accomplish the application objectives,
Non-CV sensors provide something important for a CV application that CV data doesn't have, or
CV oriented devices are not yet available to meet the needs of the application.
This paper describes how each of the Pilot sites is using a blend of CV and non-CV technology in its deployment to meet near-term needs and demonstrate long-term potential.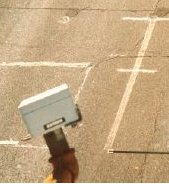 NYCDOT is using existing sensors associated with the Midtown in Motion legacy system to collect speed and travel time data. According to NYCDOT's Concept of Operations document: "The USDOT has expressed a need to collect ongoing vehicle situation data and infrastructure situational data that can be used by other applications through the CV data distribution system and stored into the USDOT data warehouse for analysis of network performance… For the NYC CVPD, this data will be obtained via the I‑SIG CVDATA application to provide travel time input to the Midtown in Motion (MIM) adaptive control system and speed detection system. Both the MIM and speed detection systems are currently using RFID [Radio Frequency Identification] readers and monitoring the travel times of vehicles using toll tags. The MIM also uses the field measured volume and occupancy from midblock microwave detectors providing volume and occupancy. Traffic volume and occupancy data may not be able to be replaced by CV data at this time due to the penetration rate of the connected vehicle technology." Thus, microwave sensors will be used to collect traffic data and the CV collected travel time data will be used to compare the accuracy of the RFID travel times with the CV computed travel times. The goal is to eliminate the RFID monitoring equipment and rely solely on the CV data to provide travel times for both the MIM adaptive control and traveler information. (Photo of microwave sensor from FHWA.)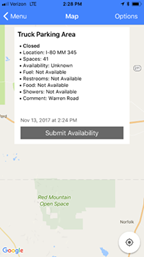 WYDOT has built its CV Pilot deployment around existing sensors and data management applications. 1 A WYDOT Transportation Management Center (TMC) system called the Data Broker manages the exchange of information among the data sources along I-80, including weather data from the Pikalert® system collected by 40 Environmental Sensor Stations (ESS) and weather sensors on state snowplows and maintenance vehicles, incident information from 54 web cameras, work zone data, and truck parking information gathered from users of Wyoming DOT's 511 App. Data from these systems enable the TMC to manage various advisory, control and treatment strategies on the corridor. These same systems also act as inputs to the CV applications especially on the V2I front. (Photo of Wyoming 511 App from WYDOT)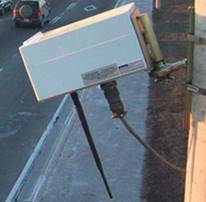 THEA is using conventional radar sensors to determine queue lengths at the downtown end of the Lee Roy Selmon Reversible Express Lanes. THEA's End of Ramp Deceleration Warning application needs estimates of queue lengths to provide deceleration warnings to approaching vehicles, but the market penetration is insufficient for CV coverage alone to provide accurate estimates of queue length. Likewise, THEA's Wrong Way Entry application uses conventional radar sensor technology to determine if an unequipped vehicle is about to enter the one-way express lanes in the wrong direction. An OBU in an equipped vehicle can provide this information, but an unequipped vehicle can only be detected with a non-CV infrastructure sensor. (Photo of radar detector from FHWA)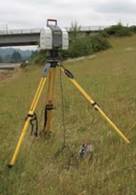 On the other hand, THEA is using relatively new Light Detection and Ranging (LiDAR) equipment to sense the presence of pedestrians crossing a street, and to determine their location and walking speed with sufficient accuracy to enable the PED-X safety application to provide a warning to drivers of approaching vehicles. THEA realized early on that the location provided by smart phones had insufficient precision to support safety applications. At the Operational Readiness Demonstration held in Tampa in late April 2018, the LiDAR performed admirably for providing pedestrian location to the CV infrastructure, which generated warnings to approaching vehicles. (Photo of LiDAR unit from FHWA).
Each potential CV deployment may have different goals and different financial and infrastructure resources on hand. Planners for each deployment should consider where conventional or emerging non-CV sensors and technology may supplement CV sensors. They may not be needed after CV devices reach sufficient maturity or market penetration, or may continue to be used if they provide a valuable source of information not obtainable from CV devices.