Communications
U.S. Department of Transportation's Pedestrian Safety and Mobility Research to Be Featured at the 2013 South by Southwest Conference
Date: Tuesday, March 12
Time: 3:30PM - 4:30PM
Venue: Austin Convention Center, Room 5ABC, 500 E Cesar Chavez St, Austin, TX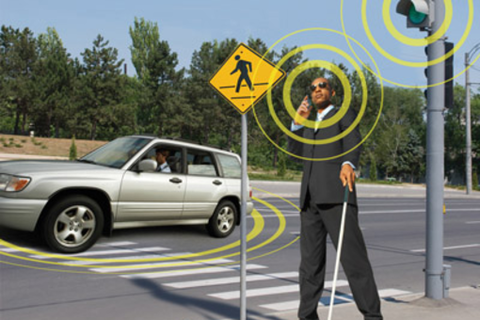 The prestigious South by Southwest (SXSW) Conferences in Austin, Texas, will include a panel discussion on how intelligent transportation systems (ITS) technology can be used to improve safety for disabled pedestrians.
The session, "Making Accessible Transportation Modern and Cool," will feature James Pol, Team Leader for Program Management and Evaluation in the ITS Joint Program Office, and Mohammed Yousuf, a research engineer for the Federal Highway Administration (FHWA).
The session was chosen through SXSW's PanelPicker website, where potential presenters submit proposals for sessions and then the SXSW community votes for the ones they would like to see at the show. More than 3,000 proposals were submitted for the 2013 SXSW Conference.
The session will focus on research in accessible transportation, which has gained new momentum in recent years as a result of some of the U.S. Department of Transportation's (USDOT's) research activities. The FHWA Exploratory Advanced Research and Small Business Innovation Research programs are exploring advancements in ITS and other technologies to improve accessible transportation for people with vision impairment and other disabilities. The session will bring together different experts, technologists, and perspectives from the USDOT, academia, and private sector, and will explore ways to work collaboratively to further this research.