Communications
The Tampa Connected Vehicle Pilot's Passive Pedestrian Detection System Offers an Alternative Way to Use LiDAR for Traffic Safety
One of the major goals of the Tampa Hillsborough Expressway Authority (THEA) Connected Vehicle (CV) Pilot is to improve pedestrian safety.
At the George E. Edgecomb Hillsborough County Courthouse in downtown Tampa, there is one primary mid-block crosswalk for pedestrian access to and from the main parking garage. A lack of attention from some drivers has led to numerous vehicle-pedestrian collisions or near misses with pedestrians trying to reach or leave the courthouse. Pedestrians will also often elect to take a shortcut by crossing East Twiggs Street mid-block and outside the crosswalk, creating further safety concerns. THEA wanted to address the pedestrian safety hazards at this location by incorporating a pedestrian detection system that would warn vehicles of pedestrians' presence in the crosswalk.
THEA's solution combines LiDAR equipment (to detect the pedestrians) with a CV-enabled roadside unit (to broadcast the information to CVs in the vicinity). This hybrid solution offers a twist on LiDAR's traditional use. Typically, anti-collision systems that utilize LiDAR sensors are installed directly on the vehicle; however, THEA uses stationary LiDAR sensors mounted on posts on each end of the crosswalk.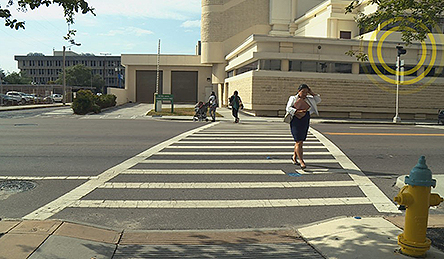 A LiDAR sensor mounted on a post near the Twiggs crosswalk outside of the courthouse
The LiDAR units installed at the crosswalk operate by collecting high-resolution 3-D representations of objects using pulsed laser light. These scans are then analyzed to identify pedestrians and bicyclists within the defined area of the crosswalk. The LiDAR is programmed to scan a small region of the sidewalk to locate pedestrians that may begin to cross. Moving pedestrians are tracked and their predicted trajectory is calculated to identify possible collisions based on the vehicle's location and speed of approach.


Pedestrian Warning Symbol in the rearview mirror
The system is now operational and open to the public.
For more details on the planning process, how the LiDAR system functions, and the challenges faced by the team during its deployment, visit https://www.its.dot.gov/pilots/thea_lidar.htm.